We spoke to chef & writer Zoe Adjonyoh about how every element of culture, including what we eat, is being 'de-colonized'.
Zoe Adjonyoh is a writer and cook from South-East London. Her restaurant Zoe's Ghana Kitchen and supper club have been making waves in the foodie scene. This year Zoe co-founded BlackBook, an organization whose stated focus is 'Decolonizing the Food Industry'.
It already feels as though a large part of 2020's legacy will be about the way it brought every corner of life and culture into mainstream conversations about race. Why do you believe it's important to talk about food when we talk about racism and anti-Blackness?
Food is the cultural currency that everybody has, right? Each culture holds their cuisine very dearly. But there is a bigger conversation happening about how colonized food is, as an industry, product and service. Those of us who work in food, who are food writers and chefs, who are stylists or photographers, have been discussing the limitations of the white gaze.

We've discussed the fact that our voices aren't perceived to be as valuable as our white peers who have less experience, and how there only ever seems to be space for one Black voice at a time, or one Black cuisine at a time, and how reductive the narratives are about those cuisines. It's very frustrating, and it's important, because there isn't anybody in the world of food who's Black or non- white who isn't affected by this issue.
Your organisation BlackBook's stated focus is to 'Decolonize the Food Industry'. Can you tell us what that means to you?
Decolonizing the food industry, in its most simple definition, means removing the white gaze from food, that's it. It's asking the question: What does the food industry look like if we look at it through a completely different lens? If we take the whiteness out of the lens, what are we left with? The minute you pick up a knife and fork, that's colonized food, right?

The act of so called 'civilized dining' is colonization of food; the language, the description of food, the English name for an ingredient, the desire to keep replacing the actual ingredient with something the white gaze is familiar with, the desire to make a recipe fit into the white gaze's understanding of what a recipe should look like.
"Decolonizing the food industry, in its most simple definition, means removing the white gaze from food."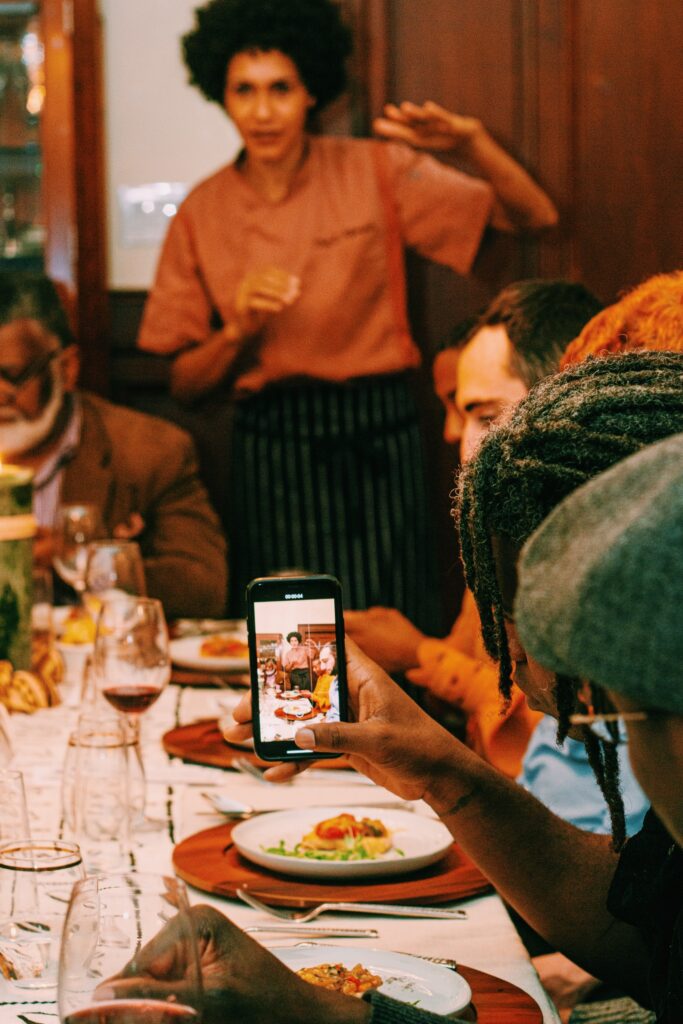 In addition to being a chef you are also a writer and author of a cookbook, Zoe's Ghana Kitchen. What has it been like to navigate the white gaze's understanding of what a recipe should look like in your own work?
Writing about food still continues to be a political act, because of that relationship with the white gaze and the white publisher and the white editor. I'm a third-culture kid from two immigrant parents, I'm a lesbian, I'm Black and mixed race. All of that affects everything I do and say, and everything I cook.

I want people to understand all of that, my journey, my traditions and how I've moved them forward, and you can't do that in thirty to fifty words, before a recipe. I need those extra couple of hundred words to introduce a recipe, and position everything in exactly the right way.

And that's a continuous, evolving thing, letting your work breathe and trusting that the audience will go there with you. That's another big piece that the industry as a whole has to do, is just trust the audience more. Trust that if they don't know what an ingredient is they can Google it!
You've been recognized by some of the most powerful institutions in food, including the James Beard Foundation. Is gaining more recognition from these traditional institutions important to you, or do you believe it's time to build new, more inclusive rubrics of excellence?
You know, when I started my little restaurant in Brixton, it was always meant to be a fast, casual thing. But, I'm not gonna lie, I did have an ambition to one day open the first Michelin-starred West African restaurant in the U.K. It felt important, not because it was important to me necessarily, but because of what that would mean for West African food as a cuisine.

That Michelin star is still up for grabs. And I would like to see somebody get it who was a Black African, making banging West African food of that standard. It would be an important thing for the industry, mainly, for them [Michelin] to see that this is what we're capable of actually, and to show people that they should be paying more attention to this cuisine.
"For so long success and attainment has only been shown through one lens."
But equally, that whole Michelin standard is annoying. It's like, a tire company decided what food is tasty? Suddenly it's the standard of what great food is, but who created that standard? And for whom? It wasn't for me, it wasn't for my people. That's for sure.

So, some people still want to work within these systems and power structures, and I'm sure this isn't a negative thing. But you know, we as the Black and BIPOC population of the world, some of us, including myself, have a tremendous amount of work to do around decolonizing our own minds, right? Because, for so long, success and attainment has only been shown through this one lens. It's why I'm very much more in favor of creating our own standards of black excellence because we are the best people to set that standard.
What advice would you give to other BIPOC people looking to get into the food industry?
Because I didn't go to culinary school, I advocate for people to make it outside of the lens that exists. I tell people to look outside the existing systems, at social media: Instagram, YouTube, even Tik-Tok if you're the right age! They're all valid ways to get into the industry. Use whatever you can that's out there. Use whatever is accessible and free to tell your story, and find your tribe.
I would also encourage people to start writing about your food the way you want to write about it. And if you develop an audience around your style of writing, that's your tribe! You don't need the white gaze. And if they want to come over and join you, then great, welcome them in! But don't exclude yourself from what you're writing about. Cook for everybody, if that's what you want, but don't exclude yourself from what you cook.
You can follow Zoe on Instagram at @zoeadjonyoh and check out her organization BlackBook at blackbook-global.com.
Download the full report on our homepage.